APE (The Alternative Press Expo) in San Francisco!
October 13-14
The Concourse, 635 8th Street, SF, Table 832
If you like comics and you don't like the ridiculous crowds of Sandy Eggo Comic Con, YOU WILL LOVE APE! It's the way comic conventions should be. Smaller… no big mega corporate comic book people or TV and Movie infiltration… just comicers, artists, comic-craft, zines, cool people… fun.
Salinas Food & Wine Fest
Saturday, October 20th from Noon-Five, Oldtown, Salinas. The Salinas INC/Funsters group of local 'tooners will have a table at the Food & Wine Fest… Original art, prints and silly stuff will be at our booth. Come down for some 'tooner fun. (Independent Networking Cartoonists, in case you were wondering). There's money involved if you want to taste wine.
Ongoing… First Fridays in Oldtown Salinas!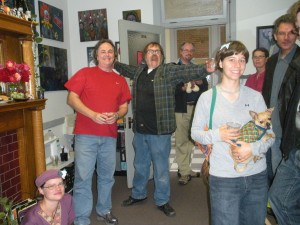 Every First Friday, The Cartoonery door is open for all visitors who wish to engage in snacking, mingling and good-timing. Fun starts at 5pm and goes until 8pm.
5 E. Gabilan Street, Suite 205, Salinas, (that's CA).
It's upstairs from First Awakenings (the tasty breakfast and lunch place). Come up to the Cartoonery fro some fun!
UPCOMING FUN> Chat Noir First Friday in November! Turn of the Century French Cafe style!